Grappler
---------------------------------------------------------------------------
Engine
357 Accel Super Ram MultiPoint Fuel Injection
World Casrings 2.02 Sportsman II Heads With 1.5 crane roller rockers
Crane Hydraulic Lifter Cam similar to the Lingenfelter SuperRam cam
All topping a Stock Bottom End
Drivetrain
93 spec Borg-Warner T-56 6 Speed Tranny
8.8 rear end with 3.24 gears and a stock posi
---------------------------------------------------------------------------
Suspension
*frontend*
1992 Chevrolet Corvette Suspension
QA1 Coilover Shocks
13" Brakes with DualPiston Calipers
*rearend*
Custom Built 4 Link
QA1 Coil overs shocks
11" Disc Brake with SinglePiston Calipers
---------------------------------------------------------------------------
Interior
5 point harnesses / racing seats
6 point roll cage
11 gauge set of white face gauges
---------------------------------------------------------------------------
Exterior
Cal-Vu sport mirrors
silver monochromatic paint job
mid '90s GMC grill
H-4 conversion with turnsignals in bulb
2 1/2" cowl induction hood
dual rear mounted batteries
20 gallon fuel cell
custom body work
---------------------------------------------------------------------------
Wheels/Tires
Camaro SS/Corvette ZR1 five spokes
17x9.5 with 275/40/17 for the front
17x11 with 315/35/17 on the rear
---------------------------------------------------------------------------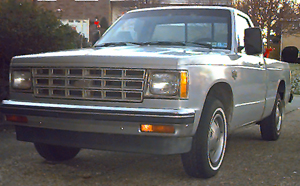 ---------------------------------------------------------------------------
**Dec. 22 1998**
---------------------------------------------------------------------------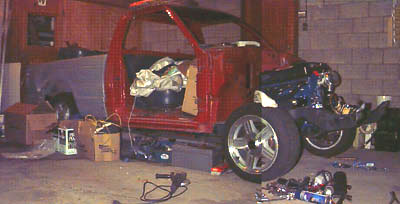 ---------------------------------------------------------------------------
**Dec. 22 1999 - Dec. 22 2000**
---------------------------------------------------------------------------



it rolls once again! now to get it welded up and rear shocks and wheel adapters on it!!
---------------------------------------------------------------------------



---------------------------------------------------------------------------
**Dec 22 2002**
well not really but it look the same
---------------------------------------------------------------------------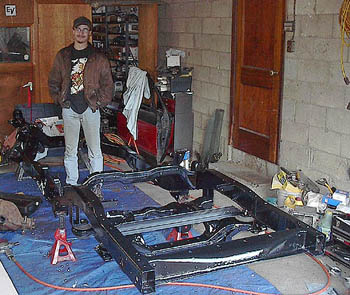 ---------------------------------------------------------------------------
*yeah thats me!*
---------------------------------------------------------------------------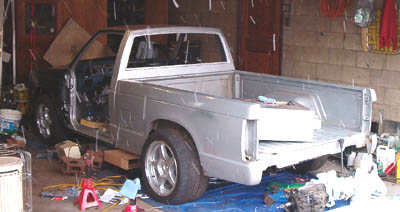 ---------------------------------------------------------------------------
**Jan 14 2003**
---------------------------------------------------------------------------
Things I Have Done:
1. Installed new rotors and bearings.
2. Received and installed the Hyper-Flex Master bushing set.
3. Striped down the truck.
4. Began to put the new parts back on my boxed frame.
5. Got the wheels that I need to run my brake system with.
6. Initial test fit of the engine on the frame.
7. Received the 6 speed tranny and assembled it with hi-po clutch and special flywheel.
8. Received two straight rustfree doors, complete with power windows and locks.
9. Pulled down the motor and beginning install of the new hi-po cam and heads and new head gaskets.
10. Added page full of the more recent pics I've been wanting to post!
11. Major Update! Received the new rear end that I will be fabing into my truck.
12. Got the new 11" front rotors/spindles cleaned and painted.
13. Received the required upper control arms to run the new brakes along with the coil over shocks for the front.
14. I am now the proud owner of a Accel Super Ram Fuel Injection system!!! A few pics up.
15. Got all the tires and to date, the rear wheels. Fronts are on order and should be here soon.
16. Have 3/4 of the gauges Ill be running. Have pics of the v-belt install up.
17. Ditched the v-belt for a serpentine setup.
18. Frame is back and in the process of being cleaned and painted.
19. Discovered I have a 11" and a 12" spindle. So 2" drop spindles are on order. As are my 1.5" adapters are also on the way.
20. Believe it or not, my stock driveshaft works prefectly! - ok, almost perfect, needs 2" cutout.
21. Frame is fully painted, rolling, crossmember is together, and brake and fuel lines will be run soon.
22. Have even more hose and ends, mufflers, and even one set of seat belts!
23. Got another set of fully power doors along with a bed... but discovered that its a 7' and is going back.
24. Picked up a bed from ohio for $200.
25. Started running the rear section of brake lines.
26. All fuel and brake lines are run. Fuel Pumps are wired and tested.
27. Purchased a full C4 Corvette Suspension for the full frame i'm going to build.
28. Began work on the new frame, Link is Above.
29. Main Frame is Complete and Home for Completion.
Future Things To Be Done:
1. Get everything together to fire it up and hear it run!
2. Adding more pics to the other pages to keep everyone informed.