Meet MulTpI!


Time Line
11.16.01 - Came back to life around 12 o'clock. =) ,but with a bad oil leak out of the adapter.
11.18.01 - Came back to life AGAIN, after swapping starts 3 times. realizing that it was partly a ground problem and was nearly out of gas!
But man, does it ever sound sweet!!
11.28.01 - After a number of days of no start. Im at a loss as to what is wrong with it.
11.30.01 - Finally, it runs and runs good. Helps when you have good plugs that actually fire!!
Some bugs, but none the less, good!
12.11.01 - The truck is in my name. Expected date of reentry to the road by the 17th.
Finally got it inspected while back, runs good. Bug here and there but good! =)
9.06.02 - Installed a new exhaust, got some pics up. No more hanging below the frame and no smacking off the rear end.
12.16.02 - Got a 4 speed tranny from a 84 firebird. Gonna work on getting that in and later on get the 5 speed with a mustang tail piece back in.
1.17.03 - Something has happened and it doenst go no more. Motor runs great, but something is the driveline is gone. More work.
Mid June - Put the truck to final rest...Purchased a 94 GMC Sonoma.. the truck was striped and the shell junked.


this truck has had many owners and lots of paint and a few incarnations.
it started out as a 4 cylinder tbi engine with 4 speed manual transmission. it was converted to the engine in the lower picture - a 2.8 v6 multi port injection and the 4 speed from my 82. along with a set of 15x8 camaro steel rally wheels. it was a blast to drive and pretty darn quick. well after a winter with the 2wd and a near wipe out with a pole. doug decided that he needed 4wd. eventually the 85 blazer was found, which is also on this site. but with some later problems ultimately sealed the death of the blazer but deeper detail will be on that page, along with some pics. the truck was then sold to barry. he had it for little while and even changed out the 4 speed for a 5 speed. but after he hit a fellow student with it on the drivers side and then he thought that the head gaskets had gone. so he decided to get rid of it, so i bought it. well after while, my buddy steve needed a car after he wrecked the last one, so i sold it to him. well with a few problems while he had it including the death of the first v6. a junk yard engine was put in. but it was a newer one since we thought that the first was an 88 motor, well it wasn't! so with a rather bad vibration and an exhaust leak. steve drove it till the tranny bell split in two! and upon later inspection, the motor killed 4 of the 6 plugs and had at least one dead cylinder in #2. the exhaust valve had a hole in it. so with that, i got the truck back. this time for keeps. i began work on it shortly afterwards. it wasn't long after i started work on the truck that doug decided that he was getting rid of the blazer. to avoid problems with selling it and to pay off his debt to me, i got pick of some of the things that i wanted off it. so the motor in the blazer is seeing continuing life in this truck. along with some body parts and interior parts. the rebirth of this truck will include....
On Hold! - *plans are in the works for an aluminum headed 3.1 with a custom intake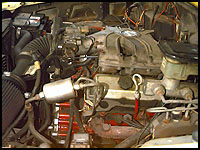 /\ then
\/ now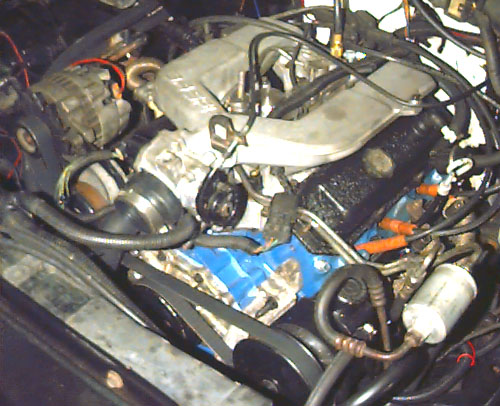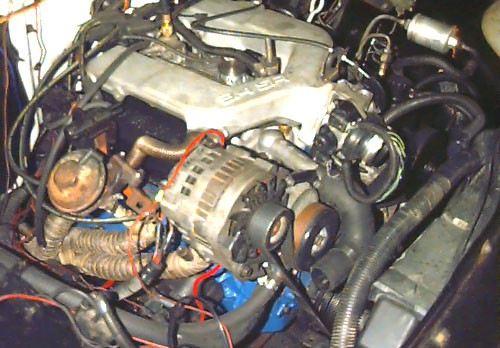 the Blazers 2.8 reman motor. (original bottom end)
ported and polished/gasket matched/fresh 3 angle valve job set of heads from the first 2.8 motor in truck. (seen above)
gasket matched camaro 3.4 intake from fellow S-Series.org member- Ken Zink.
Holley adjustable fuel pressure regulator
3.8 fuel injectors
Holley 255 lph intake fuel pump and new strainer and 20 gallon tank
modified fuel lines
Edelbrock TES headers with a modified EGR valve since factory mounted to exhaust manifold
New Catco 2 1/2 Catalytic Converter, single in/ dual outlet Dynomax muffler, custom bent tails.

Exhaust now includes that cat, 2 1/2 Thursh Cherry Bomb and a side exit infront of the pass side rear wheel

Crane Cams 2030 grind cam and lifter kit
Comp Cams 1.52 ratio roller tip rockers
custom air intake
full serpentine belt setup complete with under driver
8.8 Accel race wires (from the Blazer)
4x4 oil pan for better oil control and cross member clearance
solid motor and tranny mounts
hi-po clutch (from the Blazer)
new throw-out bearing
3 core hi-effecency radiator (from the Blazer)
power steering (gear box from my 82)
tilt steering (from Blazer)
power brake booster and master cylinder (from the Blazer)
new calipers, hoses, lines, pads and rotors
full dash board and inner door skins (from the Blazer)
full compliment of digital gauges (some new, some from the Blazer)
3" drop blocks and junkyard leaf springs (that were to be used on my 82)
2" drop spindles with the upper control arms (arms from my 82)
new poly bushings, ball joints, and camaro lower control arms with modified bump stops
all ready had the factory sway bar from my 82, believe it was 1"
7/8" rear sway bar (the one i was going to use, from my 82)
rear bumper replacing the roll pan. (from the Blazer)
the tailgate from my 82 (since the one on it is crunched from being pushed)
relocated battery to the rear of the passenger side bed (from the Blazer)
new set of inner fenders and new core support